Last updated 13 Jul '97, 23:30.

What's New in this page: Cosmetic changes

How do I get my games working with PaCifiST?
Firstly, a disk image must be made of your old ST games disks.
Put your old ST games disk in the PC drive and use either ST IMAGE or IMAGE DISK (see my utilites page). I recommed using ST IMAGE as it can be quitted in the case of a disk error.
If you use ST IMAGE, type the following at the DOS prompt (assuming ST IMAGE is in your PaCifiST folder):-

Or if you are using IMAGE DISK type this at the command prompt (assuming IMAGE DISK is in your PaCifiST folder and called image.exe):-

This may not work for all games straight away - if a disk won't go onto your PC, see the next section:-

Why won't my games still not go on to the PC?
This is if either ST IMAGE or IMAGE DISK give an error and fail to give you a working disk image of your game.
It is important to note at this stage that disks with copy-protection (commercial games) will NOT work with either ST IMAGE or IMAGE DISK.
The first thing to do is make a copy of your game onto another disk using your humble ST. Hopefully ST IMAGE and IMAGE DISK will be able to read this copy.
To make a copy of the disk use FCOPYPro. Go the options screen in FCOPYPro by selecting ">> more options" from the main screen (see Fig. 2 below).
When on the options screen disable all the advanced formatting options, so your screen should look like the one below (Fig. 1).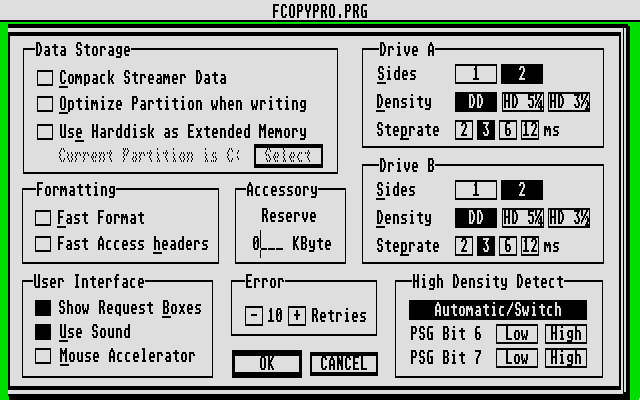 Fig. 1
This screen should look like this If you can't see this properly, click here!
Now put in the game you are trying to copy in drive A (and a blank disk in drive B if you have two drives). Go back to the main screen of FCOPYPro and make sure it looks like the one below (Fig. 2). (Source and destination options may be different depending on how many drives you have).
Now select "copy disk" and swap disks if and when prompted to.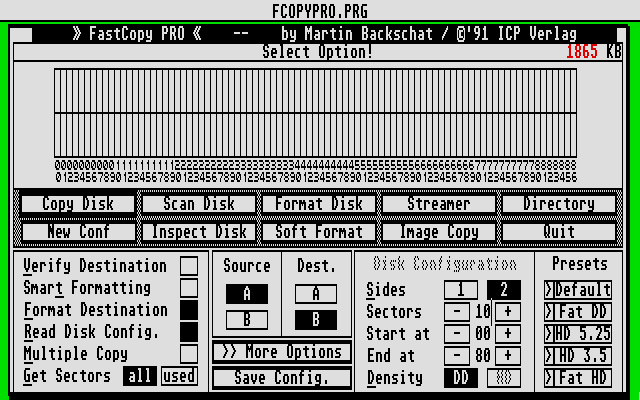 Fig. 2
This screen should look like this If you can't see this properly, click here!
Now try the new copy with the PC using ST IMAGE or IMAGE DISK (see top section).
A possible way of testing if the copy you have made would be to test the copy on your ST before you put it on the PC - this may highlight problems before you put it on the PC which tells you there is a problem with the disk rather than PaCifiST.

Ok, I've got a disk image why does it still not work?
Try TOS 1.00 for autobooting games, this generally solves most problems. You may also want to try TOS 1.62 as this is very compatable and is faster (disk access) than TOS 1.00.
Use TOS 2.06 for GEM applications, but don't use it generally for GEM games (use TOS 1.00).
Try different memory configurations. High memory can confuse some games. I think 1 Meg is the best.
Try different mouse sesitivities if you are having mouse problems. Try both the internal and external mouse drivers also.
Try screen orientated rendering instead of the other one (eg. line) this can cure some problems. And vice-versa.
Try it was samples on and off.
Try with joystick emualtion on and off.
It is best to keep serial emualtion off all the time.
Use ST speed rather than MAX speed, a lot of games don't like MAX speed.
Vary the keyboard delay, see if this makes a difference.

Done all that - why is my game still not working?
If you've tried all the above then the chances are that your game doesn't work with PaCifiST - yet. It probably will do in the future due to fixed bugs, extra features etc. So it is best to hang on to the disk image for the moment and wait for future versions to come out.

If anyone has any questions about PaCifiST, just give us a mail and I'll try and help you out.


Now playing: slowmove.mid